About Nga Toa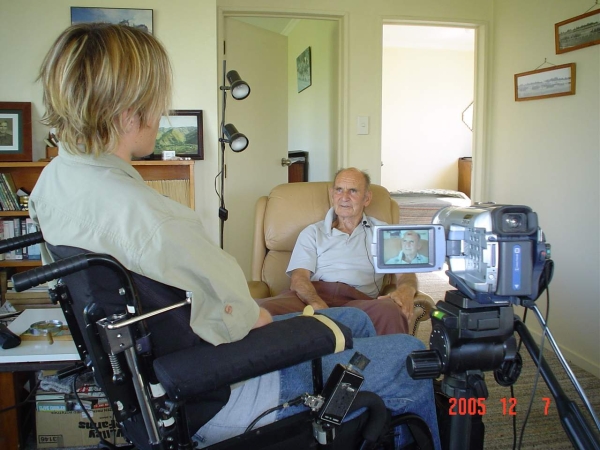 Nga Toa is dedicated to the collection of oral histories from New Zealand's war veterans. The main goal of Nga Toa is to preserve New Zealand's military history captured through the experiences of its soldiers. To date, over 200 interviews have been recorded on a digital camera. This format of interviewing allows for the visual story to be seen with all the emotion, sadness and humour of the veteran speaking and it is these images that Nga Toa feels is important in providing a visual and audio history for the families of those interviewed.
This commitment comes from an understanding that its important to capture their stories before it is too late, as nearly happened with the First World War veterans. The need to do this is also obvious from the growing interest later generations are showing in their parent's and grandparent's war history.

The growing interest in New Zealand's military history touches on the third aim of Nga Toa, the chance to educate. It is the intention of Nga Toa to transcribe the interviews and, using the oral histories of those who have given consent, post them on the Nga Toa website as an active online archive. This will open up the wealth of New Zealand's wartime experiences to the wider community and serve as an educational resource and reference.

Nga Toa has achieved much in the collection of oral histories and this reflects the need to do such a job and the desire by veterans to speak of their time overseas. Nga Toa is dedicated to this mission and feels that it is important for the families, our veterans and the wider community.

History:

At age 16, I broke my neck in a diving accident and became tetra-palegic, paralyzed from the shoulders down. The insperation behind the project came from two WW2 veterans who by sharing their war time experiances pulled me out of the inevitable depression that followed the accident.

Since my abilities are very limited, I have devoted all my time and energy to traveling around New Zealand, seeking out WWII veterans and interviewing them about their wartime experiences. It has provided me with a true focus along with the feeling that I am contributing to a defining part of New Zealands Culture and Heritage.

Despite all the obstacles, I am engaged in a race against time to preserve the oral histories of New Zealand's last remaining Returned Servicemen.

This project could not have been started without the support from the communities of Waipukurau and the greater Hawkes Bay area. Outside support has been crucial to the continuation of this project. It is very humbling to receive so much encouragement and assistance from so far a feild.

Patrick Bronte.